Ha debuttato il 9 dicembre, al Teatro Sistina, il musical Tutti Insieme Appassionatamente per la regia di Massimo Romeo Piparo. È la rielaborazione musicale della vera storia che inizia nel 1938 in Austria, quando Maria, novizia del monastero di Nonnberg, presso Salisburgo, è mandata a far da governante ai sette figli del Comandante Georg Von Trapp, dove riporta la gioia del canto e finirà per innamorarsi, ricambiata dall'austero signore. In questo modo andrà a monte il fidanzamento del Comandante con la baronessa Elsa Schräder. Intanto la Germania nazista irrompe per l'annessione dell'Austria.
Con questo allestimento si torna alla versione originale del musical teatrale dal titolo originale: The Sound of Music, anche se si ricorda maggiormente il film di Robert Wise con la straordinaria Julie Andrews.
Abbiamo quindi una regia e le scene teatralmente interessanti, a partire dall'introduzione del convento delle monache che cantano, scenografia che poi si apre sui monti dove Maria si è rifugiata a cantare The Sound of Music.
Vittoria Belvedere è Maria. La sua parte recitativa è partecipata e si nota un impegno e un progresso anche nel cantato rispetto alla sua prima di My Fair Lady del 2012, tuttavia, purtroppo, questo ruolo richiede ben altra padronanza della voce, pensando alle canzoni del personaggio come Do Re Mi e My Favourite Things. Dopotutto la Belvedere è prestata al mondo del teatro musicale venendo da altri ambienti artistici.
Luca Ward ha l'impostazione fisica e vocale per l'austero Comandante Von Trapp. Alla prima è apparso affaticato nel canto, ma sappiamo egli possa cantare meglio, come ha già dimostrato, e come, in genere, dimostrano le repliche, e questo può valere per entrambi i protagonisti.
Questo spettacolo dà la possibilità di ammirare bravi professionisti che interpretano i personaggi di questa storia immortale. I bambini e ragazzi che interpretano i figli del comandante Von Trapp sono giovani e hanno tempo per formarsi. Intanto Beatrice Arnera nel ruolo di Liesl, la figlia maggiore sedicenne, dimostra già una bella voce, come dimostra il duetto col suo innamorato Rolph, un postino che viene a trovarla di nascosto, interpretato dal bravo Riccardo Sinisi, già recentemente in Jesus Christ Superstar. Il loro duetto è Sixteen Going on Seventeen che curiosamente nell'adattamento delle liriche di Francesca Nicotra, diventa "Maggiorenne tra due anni". Pur con l'uso di parole diverse e un po' stranianti, però mantenendo la metrica, il significato resta comunque lo stesso: Liesl inizia a provare i turbamenti d'amore a sedici anni e presto sarà più in grado di capire, mentre lo stesso Rolph, già diciottenne, si propone per aiutarla.
La loro scena è molto graziosa e riuscita nel duetto canoro come anche le coreografie di Roberto Croce.
Bravo e affiatato il gruppo delle suore, a partire da (How Do You Solve a Problem Like) Maria, un'armonia cantata dove le suore cercano la novizia, nuovamente scomparsa. Sono le brave: Donatella De Felice, che interrpeta Suor Sophia, che ha il ruolo anche di Frau Schmidt, governante di casa Trapp; Marika Franchin, Suor Berthe, e Ado Mamo, Suor Margareta, prodigio vocale con voce da soprano, già visto ne La Cage aux Folles – Il Vizietto, abile tanto da non far capire facilmente di essere in realtà un uomo. Suo è anche il curioso ruolo di Zeller, ufficiale nazista che verrà a cercare Georg Von Trapp.
Silvana Isolani è una superba Madre Badessa che culmina in Climb Ev'ry Mountain, spettacolare chiusura del primo atto che esorta Maria ad affrontare i suoi dubbi e scoprire se l'amore per un uomo sia la strada da percorrere.
Questo allestimento consente di recuperare le frizzanti canzoni, assenti nel film ma presenti nella versione teatrale, che danno un maggiore risalto al personaggio di Max Detweiler, interpretato da un divertito Giulio Farnese, amico un po' scroccone della famiglia Trapp, che cerca di coinvolgere in uno dei suoi festival di canzoni, e soprattutto la baronessa Elsa Schräder, con la radiosa interpretazione e la voce limpida di Sabrina Marciano. In How Can Love Survive i due commentano la necessità dell'agiatezza economica perché gli affari d'amore vadano bene. Nel trio No Way To Stop It, dove si aggiunge anche Georg Von Trapp, i due spiegano al comandante che non ci sia niente da fare per evitare l'invasione nazista in Austria e che sarebbe meglio per lui fare vedere di essere dalla loro parte.
Tutti Insieme Appassionatamente è un musical che emoziona con il potere della musica di canzoni ormai classiche e il calore e i sentimenti di una famiglia ritrovata mentre getta uno sguardo sulla tristezza del nazismo e in questa versione c'è modo di vedere delle belle scene con dei bravi professionisti all'opera, sperando sia per loro nuova occasione di slancio maggiore.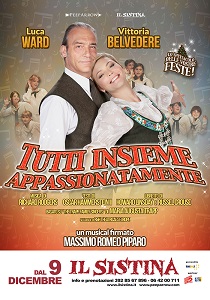 Tutti Insieme Appassionatamente
Genere: Teatro
Personaggi e interpreti: Vittoria Belvedere (Maria), Luca Ward (Georg Von Trapp), Giulio Farnese (Max Detweiler), Enrico Baroni (Barone Eberfeld), Sabrina Marciano (Elsa Schraeder), Silvana Isolani (Madre Badessa), Donatella De Felice (FrauSchmidt/Suor Sophia), Marika Franchino (Suor Berthe), Carlo Alberto Gioja (Maggiordomo Franz), Riccardo Sinisi (Rolph), Ado Mamo (Suor Margareta/Zeller)
Regia: Massimo Romeo Piparo
Di: musiche originali di Richard Rodgers, testi di Oscar Hammersmith III, libretto di Howard Linsday e Russel Crouse
Sede: Teatro Sistina
Data di uscita: 9 dicembre